Outpost Zero by Sean Kelley McKeever and Alexandre Tefenkgi
---
---
Intro to Outpost Zero & Creator Spotlight on Sean Kelley McKeever & Alexandre Tefenkgi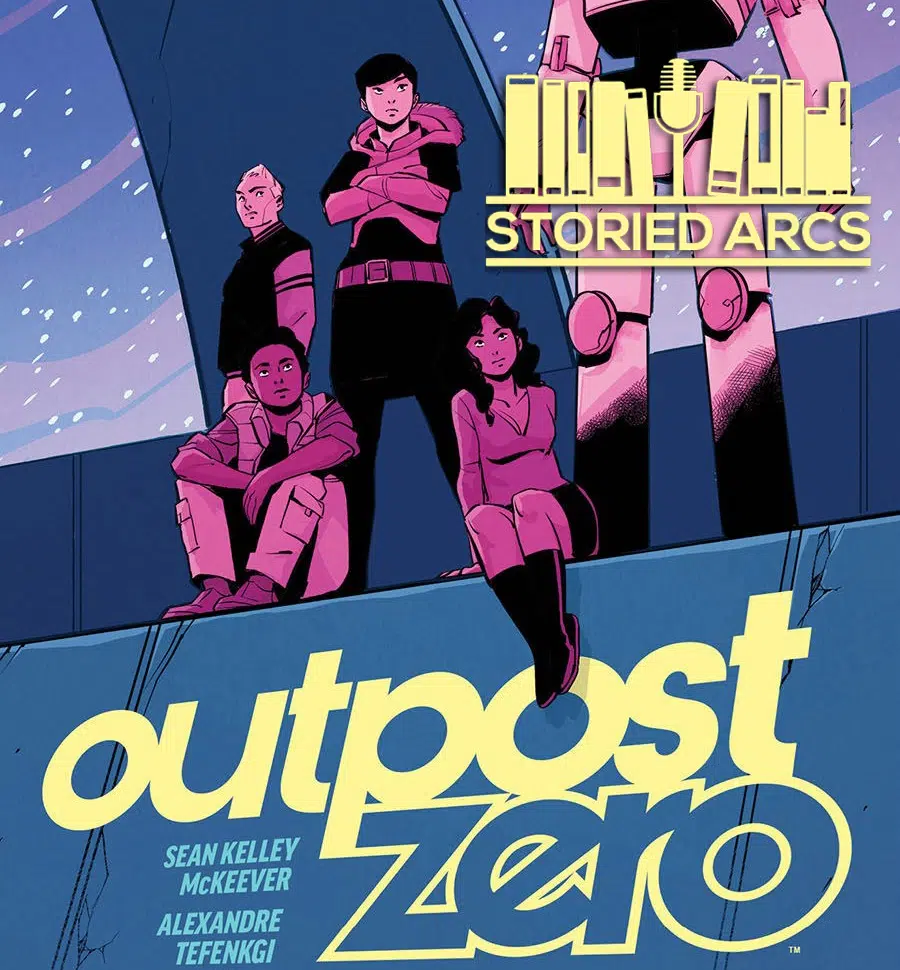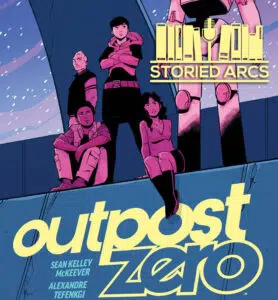 Welcome to another season of Storied Arcs! For this outing, Mike and Alex will be covering the YA-focused (that's Young Adult) series Outpost Zero by Sean Kelley McKeever and Alexandre Tefenkgi from the Image Comics imprint, Skybound. They guys will talk about why they choose a YA book for discussion and what appealed to them about this specific comic (generational ship, last ark to save humanity, kids on bikes adventure but make it Hoth- you know, things like that). Then as always, they'll give you the background of the series creative team and talk about why McKeever, who has a long history of writing comics focused in and around teen characters, and Tefenkgi, who made his US comics debut with this book, were the perfect combo to tell this story.
If you find the label "YA comic" off-putting, I implore you to give Outpost Zero a shot. It's a fun coming-of-age story that deals with real-world topics and issues and doesn't shy away from them. It's a book that can be enjoyed by someone in that middle-grade reader age range from 10 to 14ish, as well as readers significantly older (like your two co-hosts). So go find Outpost Zero Vol. 1 (issues #1-4) wherever you get your comics and join us back here next week for our deep-dive into the comic!
---
Volume 01 – The Smallest Town in the Universe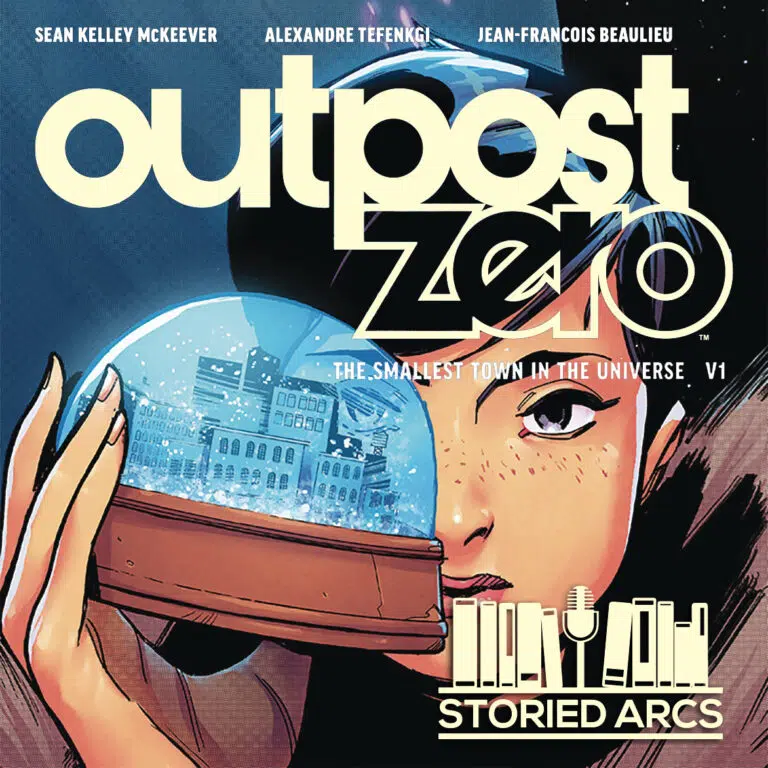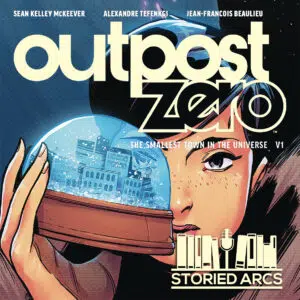 TBR – June 15th, 2023
"I wish I could be there. Wish I could see all the incredible alien things. If you're watching this… I guess you were lucky."
Welcome to Outpost Zero and to another season of Storied Arcs! In this opening episode, Mike and Alex gravity-jump straight into Volume 1 The Smallest Town in the Universe (issues #1-4) of the Skybound comic and consider it's place among similar type "kids on bikes" coming of age stories. They discuss the book's re-branding (so to speak) as a more YA story now that the complete collection is out and why that's probably a good decision. They also break down the main characters as a way to examine how trauma is handled and explored in stories like these.
[Content note, this episode does address the issue of teen suicide, as it's a major theme throughout in the comic. We understand that can be a difficult topic to broach but we hope that this story can help lead to a safe, open, and respectful discussion about it.]
As usual, we're not spoiling anything beyond what we've covered thus far, so listen away once you've finished Volume 1. Then go out and read Outpost Zero Volume 2 Follow It Down (or just read the next chapter in the complete collected edition) and join us back here next week for another deep-dive episode!
---
Volume 02 – Follow it Down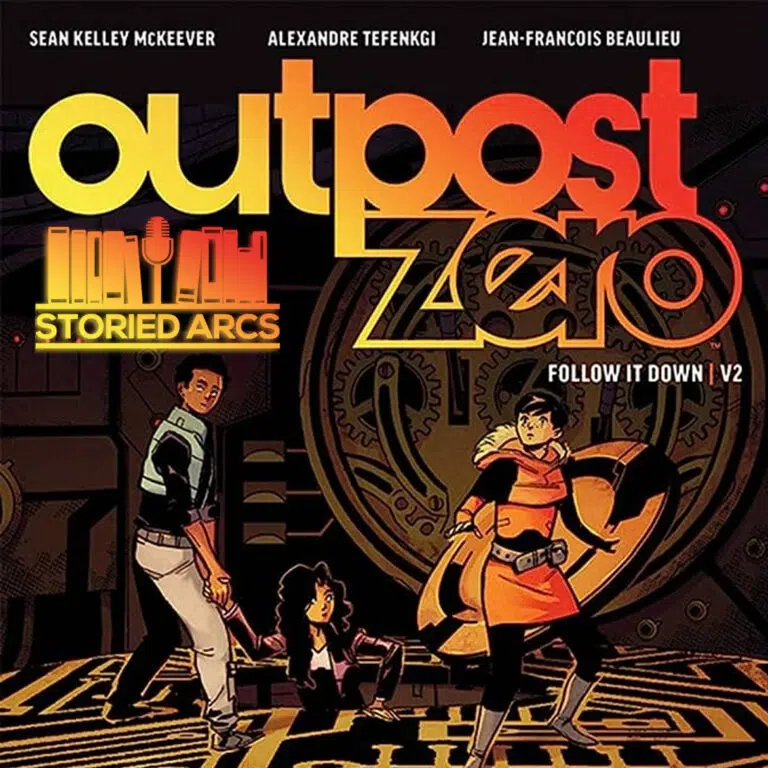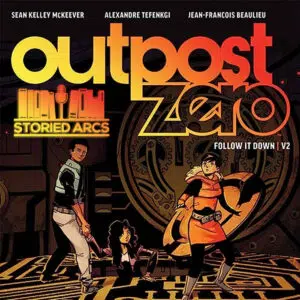 TBR – June 22nd, 2023
"When all is said and done, when it's all over… would you want to say you lived your life waiting to die? Or would you want to say something different?"
In this episode, Mike and Alex return with you to Outpost Zero in Volume 2 Follow It Down (issues #5-9) and dive deep into the story as the characters dive deep into their home. The guys discuss how the creators expand their world in the volume, filling out more sides and dimensions to it while continuing to focus on the central coming-of-age adventure. What does it mean to transition from being a child to entering the workforce? What does substance abuse and addiction look like in this world? Is having children just another obligation and duty of living in this society? And what was that giant tentacle thing deep below the Outpost? A lot of real-world parallels addressed in this volume (save for maybe the giant tentacle thing).
No spoilers here for the end of the series, as per usual. Once you've caught up, go out and read Outpost Zero Volume 3 The Only Living Things (aka the final chapter in the collected edition) and then meet us here next week as we wrap another season of Storied Arcs!
---
Volume 03 – The Only Living Things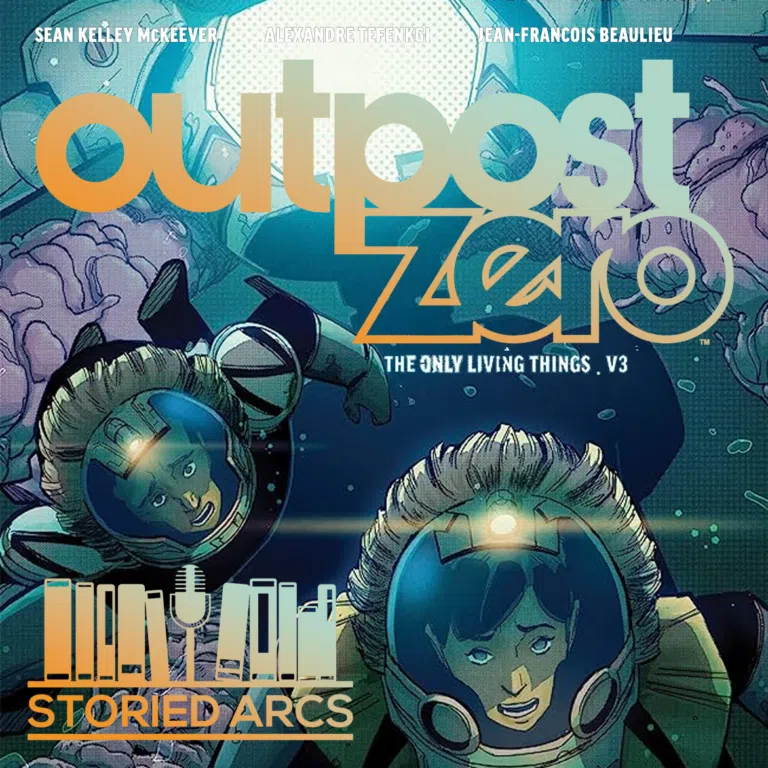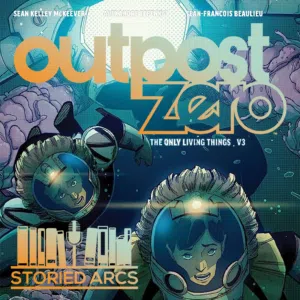 TBR – June 29th, 2023
"You guys are asking questions I don't think anyone's asked in a long time. It's dangerous, what you're doing… but someone should be doing it."
Mike and Alex are here once again to break down the finale of Outpost Zero Volume 3 The Only Living Things (issues #10-14). The guys give their overall impressions of the book before jumping into the ending (or lack of ending) and what does and doesn't sit with them at the close of the series. They also touch on how the timing of the series' cancellation may have impacted the storytelling coming down the stretch and, as a result of that cancellation, what other stories they might like to see set in this universe. There's always something more to discover out there!
We hoped you enjoyed this season of Storied Arcs! We know that a YA-focused comic like Outpost Zero was a different speed then the books we've covered previously, but that doesn't mean it's any less worthy for discussion. We should have special treat for you here in the feed next week so be on the look out for that, and then join us back here again the following week as we get ready to dive into another great comic!